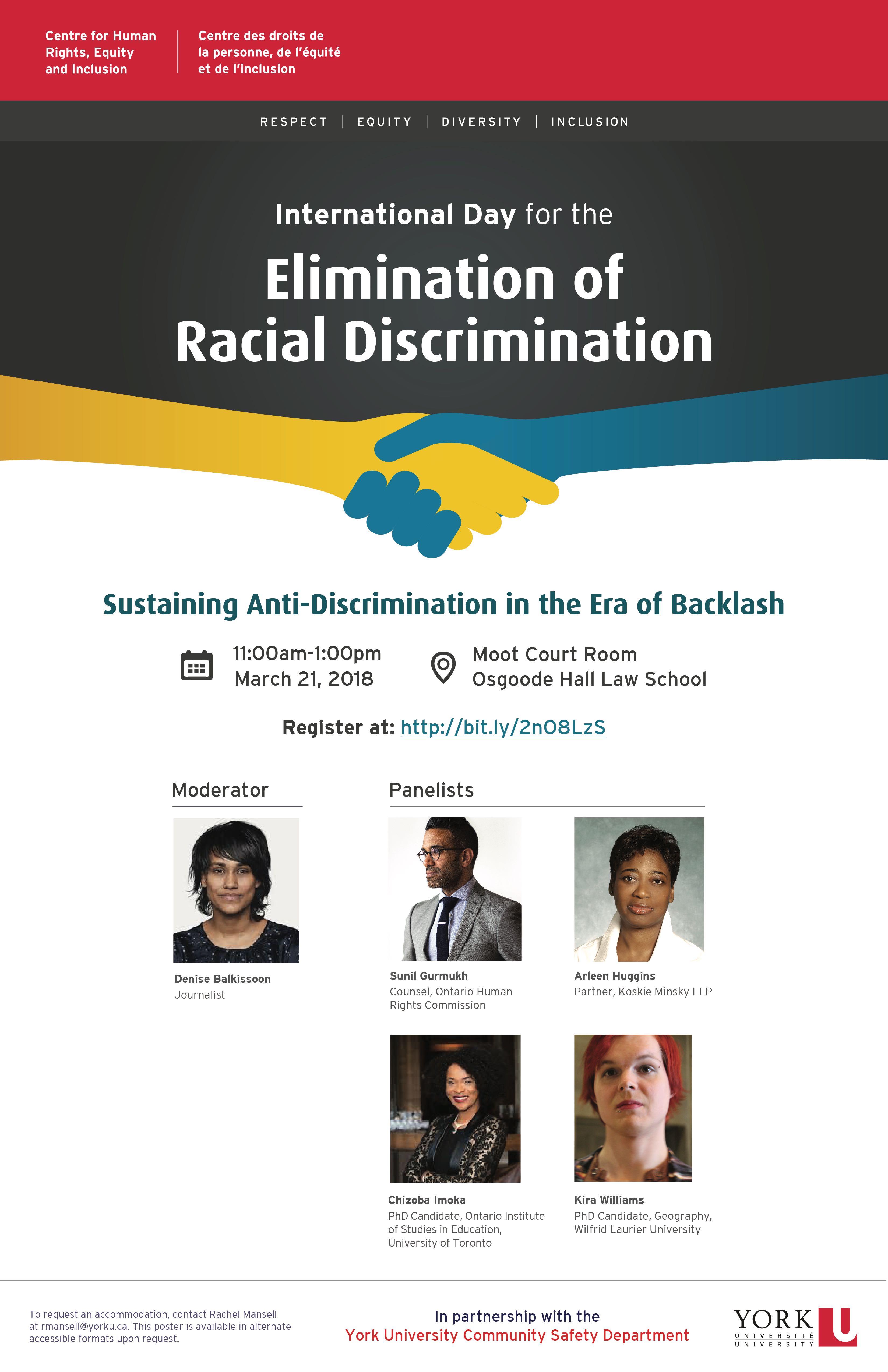 The Centre for Human Rights, Equity and Inclusion invites you on Wednesday March 21, 2018 to York University's International Day for the Elimination of Racial Discrimination 2018 event focusing on the theme of Sustaining Anti-Discrimination in the Era of Backlash .
Aligned with the international theme of "Promoting tolerance, inclusion, unity and respect for diversity in the context of combating racial discrimination1," this event brings together multi-sector panelists with diverse professional and personal expertise to discuss Canada's ongoing efforts to address racial discrimination in an environment complicated by rising populism and intolerance.
The moderated session includes 5 panelists in a roundtable discussion; creating a forum through which participants can engage with Canadians approaching the nuanced, necessary conversation of sustainable anti-discrimination in an age where polarized opinions are the norm.
This event is free of charge and is open to all who are interested in participating in this important conversation.
Moderator
Denise Balkissoon, Journalist, Globe & Mail (Read full bio, here)
Panelists
Important Information:
Event Location:
Moot Court Room, Osgoode Hall Law School, 1005 Ignat Kaneff Building
92 Scholar's Walk, York University Keele Campus
Map & Directions:
CLICK HERE to download a campus map indicating event location and parking options
CLICK HERE for Transit directions to Keele Campus. Reminder: TTC Subway Line 1 now connects directly to York University!
CLICK HERE for Driving directions to Keele Campus.
Accessibility:
This event will have:
Flat room entry (accessible by ramp)
Real time captioning
Accessible Washrooms (Women): rooms 1503, 2501, 2504, 3501, 4501, 0502
Accessible Washrooms (Men): rooms 1504, 2503, 3500, 4500, 0500
Accessible, Gender Neutral Barrier Free single stall washroom: room 1501
For any accessibility-related accommodations, please contact Rachel Mansell at rmansell@yorku.ca 
---
We would like to thank our partners, including the York University Community Safety Department.
---
1 For more information, see http://www.un.org/en/events/racialdiscriminationday/