On January 24, 2019 from 11:15 a.m.-1:00 p.m., the Centre for Human Rights, Equity and Inclusion (REI) is hosting its 10th Annual Inclusion Day celebration.
Inclusion Day 2019 will explore the theme innovation through inclusion –a triplet of compelling presentations from three global leaders on the creative potential of belonging. The presentations will be followed by a brief period of Q&A.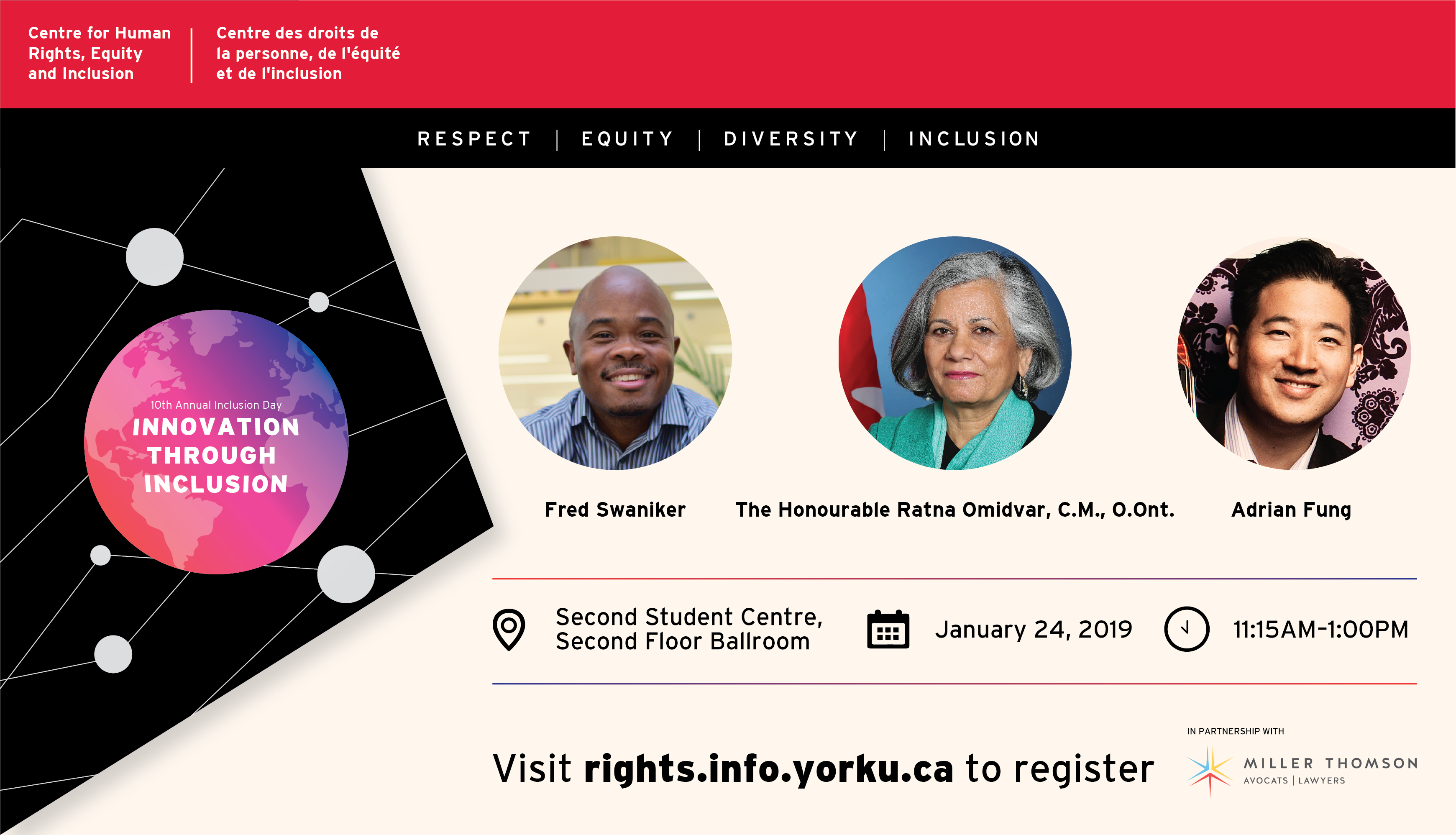 REGISTER HERE.
---
Speakers
The Honourable Ratna Omidvar, C.M., O.Ont.
Senator for Ontario, The Senate of Canada
Distinguished Visiting Professor, Global Diversity Exchange (GDX), Ryerson University

Ratna Omidvar is an internationally recognized voice on migration, diversity and inclusion. In 2016, Prime Minister Trudeau appointed Ms. Omidvar to the Senate of Canada as an independent Senator representing Ontario.
Senator Omidvar is the founding Executive Director at the Global Diversity Exchange (GDX), and a Distinguished Visiting Professor at Ryerson University.Senator Omidvar serves as a Councillor on the World Refugee Council and is also a director at the Environics Institute, and Samara Canada and is the Toronto Region Immigrant Employment Council's Chair Emerita.
Senator Omidvar received an Honorary Degree, Doctor of Laws, from Ryerson University in 2018 and from York University in 2012. She is a co-author of the book Flight and Freedom: Stories of Escape to Canada (2015). Senator Omidvar was appointed to the Order of Ontario in 2005 and became a Member of the Order of Canada in 2011.
Fred Swaniker
Founder & CEO, African Leadership University, Mauritius and Rwanda
Fred is deeply passionate about Africa and believes that the missing ingredient on the continent is good leadership. In line with this, he has co-founded three organizations that aim to catalyze a new generation of ethical, entrepreneurial African leaders: African Leadership Academy, African Leadership Network, and African Leadership University. Collectively, these institutions aim to groom 3 million leaders for Africa over a 50-year period. A passionate entrepreneur, Fred also served as Founder and CEO of Terra Education, a global education company that today provides leadership training to about 4,000 people annually at 46 sites in 20 countries in Latin America, Asia, Africa, and Europe.
Prior to his work in education, Swaniker co-founded Synexa Life Sciences, a biotechnology company with operations in Cape Town, Berlin, London, and Dublin. Prior to launching his entrepreneurial pursuits, Swaniker worked as a management consultant at McKinsey & Company in South Africa. Swaniker has been recognized as a Young Global Leader by the World Economic Forum and was listed by Forbes Magazine among the top ten young 'power men' in Africa. Fred has an MBA from Stanford University's Graduate School of Business, where he was named an Arjay Miller Scholar , a distinction awarded to the top 10% of each graduating class. He holds a BA in Economics with a minor in Mathematical Statistics from Macalester College (magna cum laude). He was born in Ghana but has lived and worked in about 10 different African countries.
Adrian Fung
Associate Dean, Professor, University of Oklahoma, Arts Executive, Concert Artist
Recognized as one of Musical America's 30 Innovators of the Year, Adrian Fung is an award-winning cellist, educator, and arts executive. As Associate Dean and Associate Professor of Music at the University of Oklahoma's Weitzenhoffer Family College of Fine Arts, he launched an arts management and entrepreneurship graduate program and the national Arts Incubation Lab program.
With Afiara Quartet, Adrian is a winner of the Concert Artist Guild International Competition, 2nd prizes at both the Munich ARD and Banff International String Quartet Competitions, and the Szekely Prize for Best Interpretation of Beethoven. His JUNO-nominated projects have been featured by Forbes and CBC Music in each of their Top 10 Albums of the Year.
He was previously Vice President for Innovation at the Toronto Symphony Orchestra, where his work included leading a nationwide project reaching an audience of 14.5 million via 50 orchestral commissions and over 40 partner orchestras nationwide.
---
Additional Information
This event is free of charge and is open to all who are interested in participating in this important conversation. A light lunch will be served.
Located on the second floor of the Second Student Centre, this event will have:
Flat room entry
Accessible, gender-neutral, barrier free single stall washroom room on the second floor, adjacent to the ballroom
Real-time captioning services
For any accessibility-related accommodations, please contact Allison Bishop at abishop@yorku.ca or 416-736-2100 ext 33681
---
Location
Second Student Centre, Second Floor Ballroom
15 Library Lane, York University Keele Campus
The Second Student Centre can be located using the interactive map of York University's Keele Campus.
---
We would like to thank our partner, Miller Thompson, L.L.P.