Recorded earlier in 2021 as part of the Centre for Human Rights, Equity and Inclusion's Inclusion Days Faculty Speaker Series, this series of videos features a conversation with Dr. Jack L. Rozdilsky and PhD Candidate Terri Chu about critically important research being led by them and members of York's Disaster & Emergency Management Program Team.
Click the image below for access for the July 2020 technical report that informed this discussion.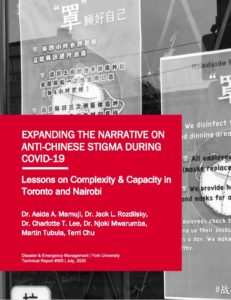 Special recognition for this session goes to Dr. Aaida A. Mamuji, Dr. Charlotte T. Lee, Dr. Njoki Mwarumba, Martin Tubula as well as the entire Disaster & Emergency Management Program at York University.
1. Research Origins: "Expanding the Narrative on Anti-Chinese Stigma During COVID-19".
2. Research related to Early Pandemic Experiences of GTA Chinese Canadian Community Members
3. Resilience: Capacity of Chinese Canadian Communities Experiencing Racism in Context of COVID-19
4. Resilience: Complexity of Chinese Canadian Communities Experiencing Racism in Context of COVID-19
5. Enhancing Inclusive Approaches to Disaster Management and Media, Politics
6. Enhancing Belonging
7. Allyship: Taking Action against Anti-Chinese Stigma and Racism