Please join us on November 20, 2019 from 1-4 pm at Ross South, 802 for Trans Day of Remembrance, a gathering of community members and allies in remembrance of those who have died due to violence towards trans, Two-Spirit and gender non-conforming people.
Drop-ins are very welcome.
This free event will also feature speakers and community banner making. For more information, please see the poster below!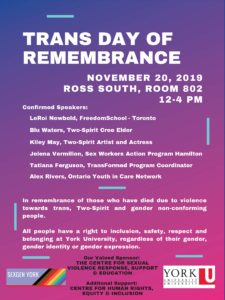 Accessibility Notes:
Important Links
---
Thank you to our sponsor