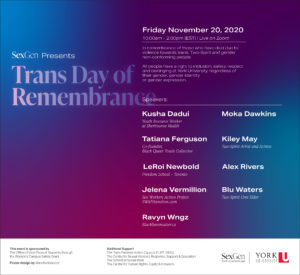 All are Welcome!
This event is open to all faculty, staff, and students in the York community and to community members and allies beyond the York Community.
Registration is required and you can register at the link below:
https://yorku.zoom.us/meeting/register/tJ0scOupqT0oGtb53NDDxnp3FlHm_rcUZuQk
Honoured Speakers
The organizers of TDOR 2020 are excited to announce the following TDOR 2020 speakers:
Kusha Dadui: Youth Resource Worker at Sherbourne Health
Moka Dawkins
Tatiana Ferguson: Co-founder, Black Queer Youth Toronto
Kiley May: Two-Spirit Artist and Actress
LeRoi Newbold: Freedom School - Toronto
Alex Rivers
Jelena Vermillion: Sex Workers' Action Program, Hamilton - swaphamilton.com
Blu Waters
Ravyn Wngz: Blacklivesmatter.ca
This event has been generously sponsored and made possible by the Office of the Vice-Provost Students through the Women's Campus Safety Grant.
More about TDOR 2020
Transgender Day of Remembrance (TDOR) has been observed annually on November 20 as a day to memorialize those who have been murdered as a result of transphobia.
As an important annual and collaborative community event, TDOR 2020 at York is being led by SexGen York in partnership with the Trans Feminist Action Caucus (CUPE 3903); the Centre for Sexual Violence Response, Support & Education; the School of Social Work; and the Centre for Human Rights, Equity & Inclusion.
Important Links