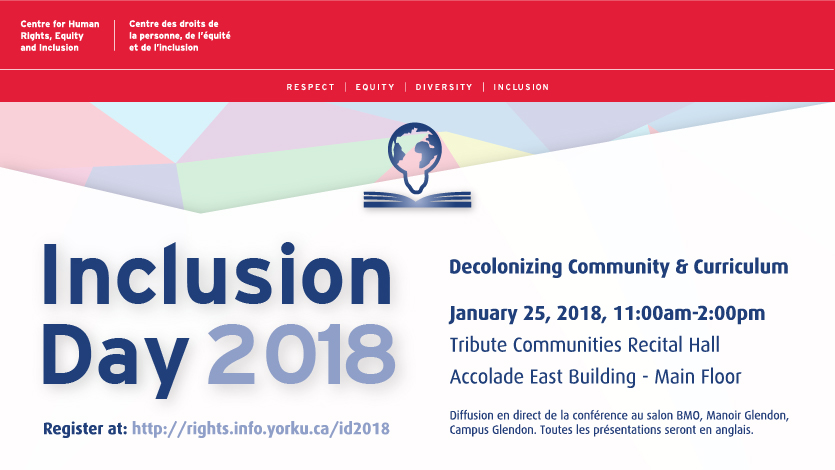 Missed Inclusion Day? Watch the livestream here:
Livestream available at: https://youtu.be/awxDcVfycpQ
---
The Centre for Human Rights, Equity and Inclusion invites you on Thursday, January 25, 2018 to York University's 9th annual Inclusion Day events focusing on the theme of Decolonizing Community and Curriculum.
Professor Kathleen Mahoney, FRSC, QC, will deliver a keynote address on "Decolonizing Community: Recognition to Action."
Following a short lunch break (refreshments provided),  Professor Kathleen Mahoney FRSC, QC, will moderate a panel discussion on "Decolonizing Curriculum: Aspects and Action." This panel features experts in education, dance, community activism, health, environmental sciences, and engineering.
This event is free of charge and is open to all who are interested in participating in this important conversation.
Diffusion en direct de la conférence au salon BMO, Manoir Glendon, Campus Glendon.  Toutes les présentations seront en anglais. 
This event will have;
Flat room entry
All gendered washrooms located on the basement level (elevator access to the basement level)
Accessible washrooms located on the second floor (elevator access close to the event venue)
Accessible, gender-neutral, barrier free single stall washroom room on the first floor
Real-time captioning services
For any accessibility-related accommodations, please contact Rachel Mansell at rmansell@yorku.ca or 416-736-2100 ext 33681
We would like to thank our partners including the Centre for Aboriginal Student Services, Lassonde School of Engineering, and Osgoode Hall Law School.