In honour of Pride 2020, a retrospective of the work of SexGen offers an opportunity to look at the subcommittee's accomplishments. As a brief history, SexGen York, formerly known as the Sexual and Gender Diversity Advisory Committee, was created following the establishment of a President's Task Force on Homophobia and Heterosexism in 1994.
An inital result of this now 36-year-old initiative is the Positive Space sticker that you may have seen, still in use, across campus:

Trans Day of Remembrance: An Annual Tribute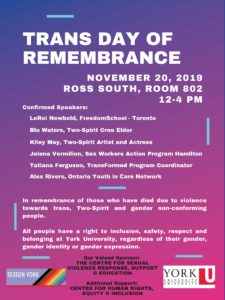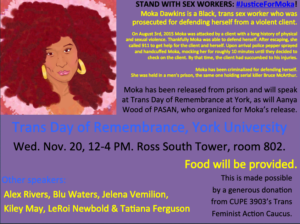 SexGen has been active in organizing events for the York University community for the annual Trans Day of Remembrance since the committee was founded in 1994. The purpose of Trans Day of Remembrance is to acknowledge the loss and resilience of the trans community, considering intersectional and diverse identities and experiences, and developing more inclusive spaces within and beyond the York community.
Highlights of past events include the 2015 tabling event where volunteers from TBLGAY and AGYU painted a banner inviting passersby to reflect on what a "safe space" means to them by asking, "What do you need to feel safe?" and to write their answers on the banner and a 2018 event sponsored by CUPE 3903's Trans Feminist Action Coalition featuring speakers LeRoi Newbold from Black Lives Matter Toronto, Kiley May, a Two Spirit artist, and Kusha Dadui.
The most recent event of 2019 featured Black trans activist and sex worker Moka Dawkins who told her story of how she was criminalized for defending herself from a violent client and was detained in a men's prison. Aanya Wood of PASAN who organized for Moka's release also spoke at the event. The powerful, inspiring voices of Alex Rivers, Blu Waters, Jelena Vermilion, Kiley May, LeRoi Newbold & Tatiana Ferguson helped participants to remember and to look to the future.
Pride and Resilience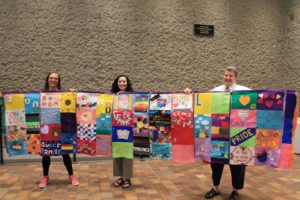 Celebrating Pride has long been a tradition at York. Since the outset of SexGen, members have been involved at a community level in recognizing the fullness of diversity at York. For Pride 2019, SexGen chose to replace the pride flag with the quilt as a means of addressing anti-colonial concerns about flag symbolism and in particular, in response to two trans people getting arrested when they raised these concerns at 2018's year's Trans Day of Remembrance ceremony at Queen's Park. The making of this quilt was also a response to the vandalism that occurred during the Trans Day of Remembrance in 2018 where a section of the quilt to commemorate Trans Women who lost their lives to violence was burned.
The quilt hung in York Lanes during June, 2019, and was visible throughout York's Pride Month celebrations. SexGen was proud to take part in this unique community-building opportunity and take part in the conversations about harm, resilience and restoration that resulted.
Supporting Trans Inclusion through the Name Change Project
It is important to recognize that trans and gender diverse folks are very much a part of the York community. In order to more fully support these community members, SexGen has been active in advocating for trans students and faculty members who have been struggling with the current system for changing their names at York. Since 2019 (and before!) SexGen has been facilitating meaningful conversations across York to make this landmark change in support of inclusive gender expression.
While part of accelerating cultural shift relates to enhancing technical aspects of York's database system, Sex Gen has also worked tirelessly to speak with and provide education to teachers, facilitators, and other York staff and faculty on best practices for working with students who are changing their names while at York. New database options are currently being looked into by York University administrators and although the process for rolling out new databases is expected to require time, SexGen is pleased to witness all the opportunities for learning by all partners and allies involved in the name change process, particularly where real and lived experiences with positive changes are illuminated.
Vigil for Orlando
Following the tragic mass shooting of 49 queer and trans people at the Pulse nightclub in Orlando Florida, SexGen York – in conjunction with the Centre for Human Rights, Equity and Inclusion (formerly York Centre for Human Rights) – organized and hosted a vigil for the York community in June 2016.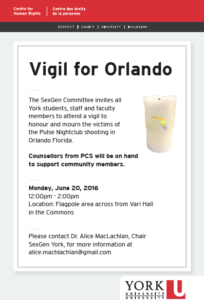 The vigil opened with a brief speech from the Chair of SexGen and a reading of each victims' name, after which attendees were invited to come up to the microphone and speak, as they were able. Attendees were also invited to write messages of grief and solidarity on the ground, around the names, and many did so. York U Counselling and Disability Services also supported wellness at this event, providing counselors for those who needed it. Approximately 80 people attended, with others passing by to write or read messages written on the ground in chalk.
Inclusive Practices are Best Practices: Using Appropriate Names

A big part of the work of creating positive space for gender diverse peoples is driven by education. SexGen's primary advocacy campaign for 2016-17 was titled the Name/Attendance Project and focused on creating (and distributing) best practices for taking attendance and learning student names, creating trans-inclusive and welcoming spaces in York classrooms. SexGen  also hosted a roundtable workshop on names and pronouns in the classroom for April 2017, working in conjunction with the Teaching Commons, Glendon CWTP, and interested faculty from several different departments.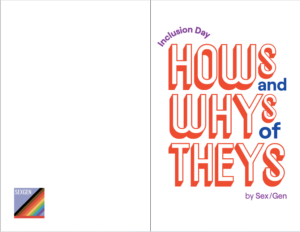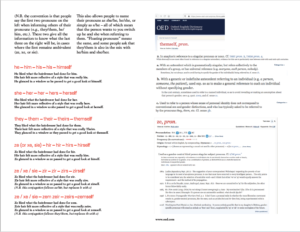 In addition, at York's 2020 Inclusion Day, a broad group of members of SexGen provided key perspectives on the histories and uses of names, all in the spirit of inclusion. Supporting this presentation was a resource member produced. You can find a PDF of that resource here: Hows and Whys of Theys.