Pride 2023
For Pride 2023, York University's SexGen Committee hosted an accessible outdoor lunchtime All Gender Drag Ball - "Existence is Resistance" - that featured members of the York Community and other performers. Attendees indulged in delicious ice-cream and slushies. The Drag performers received honorariums and awards. Our event featured performances from Twysted, Kweku, Nasty Doll, Big Trouble, CY Power, Ace Monstera, Lena di, Just Janis, BoiToy and more.
Despite the rain, the performers brought their best and the audience couldn't get enough. The event was held outside Vari Hall, in person, at York university on Wednesday June 14th from 12 p.m. to 2 p.m.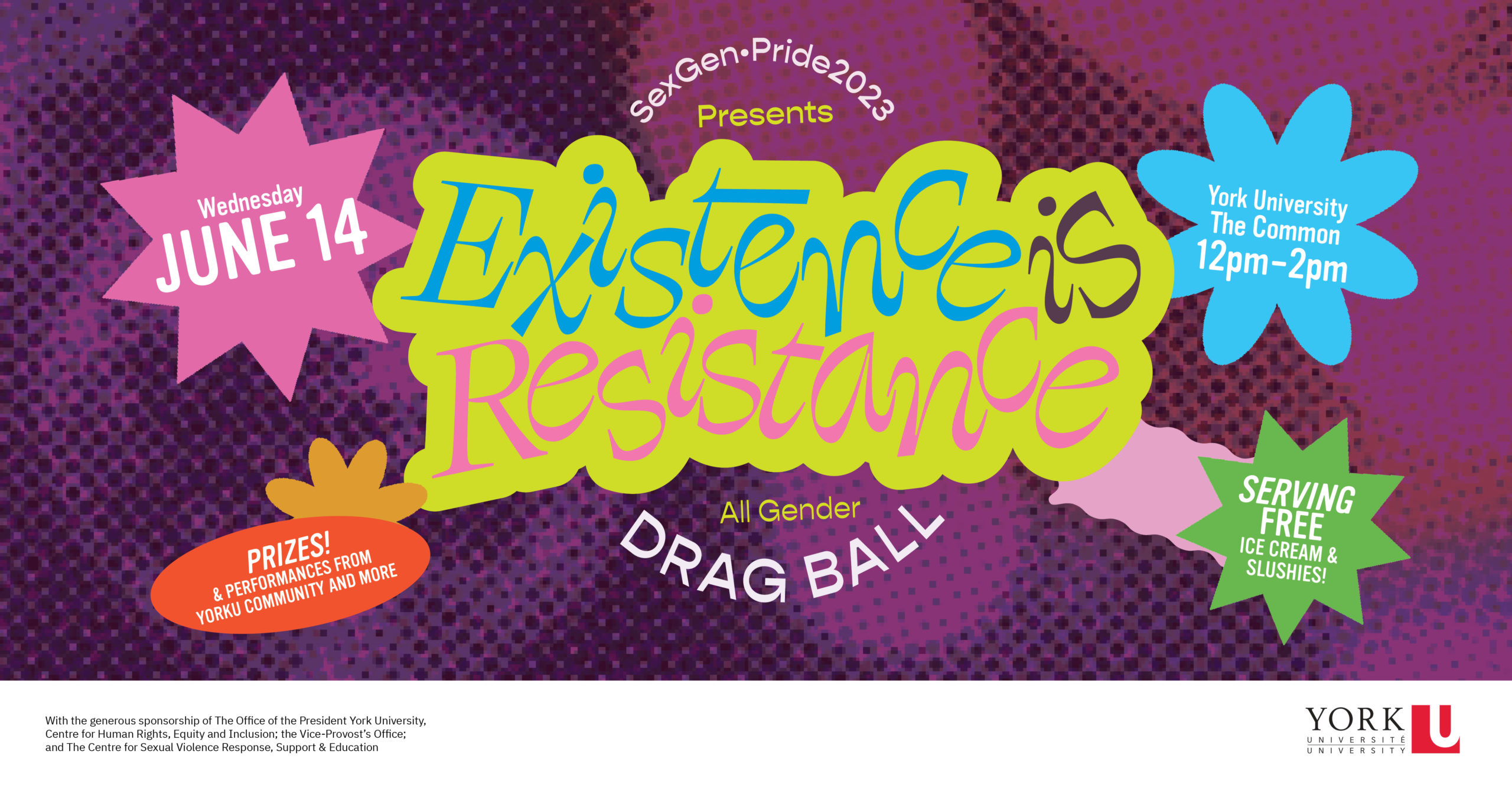 SexGen York is the University-wide committee responsible for advising and advocating around issues and concerns of sexual and gender diversity. This includes areas such as university policies and procedures (e.g. name change protocols), academic climate (e.g. homo/transphobia in the classroom), or general University environment (e.g. employment and safety).
SexGen is meeting regularly.
SexGen Dates 2023:
Recurring meeting link: https://yorku.zoom.us/j/98375776654?pwd=REE1aSs0Q0kxbG5CSVI0Z0VaUEJ1dz09
Monday, February 27th, 1:30-2:30pm
Monday, March 27th, 1:30-2:30pm
Monday, April 24th, 1:30-2:30pm
Monday, May 29th, 1:30-2:30pm
Monday, June 26th, 1:30-2:30pm
Monday, July 24th, 1:30-2:30pm
Monday, August 28th, 1:30-2:30pm
Monday, September 25th, 1:30-2:30pm
Monday, October 23rd, 1:30-2:30pm
Monday, November 27th 1:30-2:30pm
SexGen engages in the following:
Events: Planning, sponsoring, creating awareness and visibility, and opportunities for the York community to participate in festivals and events such as Pride Toronto, Trans Day of Remembrance, International Day Against Homophobia, and other days or events of significance related to sexual and gender diversity.
Communication: Creating materials, campaigns, and publications (print and online) to support the work of other committees and to promote SexGen York.
Advocacy: Raising and responding to issues, gaps, and concerns on campus, and working to provide opportunities for input and participation of gender and sexually diverse members of campus on issues that affect us.
History
SexGen York, formerly known as the Sexual and Gender Diversity Advisory Committee, was created following the establishment of a President's Task Force on Homophobia and Heterosexism in 1994.
Mission
SexGen York aims to foster an accessible, inclusive, affirming intersectional environment for sexual and gender diversity among students, staff, faculty, and community members at York University. We engage in advocacy, education, and campaigns, and we support campus services and resources for gender and sexual diversity.
Vision
We strive for York University to be free from prejudice and discrimination towards sexual and gender diversity as these intersect and interact with oppression in all its forms.
Milestones
Since its inception, SexGen has worked hard to make York a more diverse, inclusive, and affirming community. Some of our proudest achievements include:
Initiated the very first Positive Space training programs on both York campuses.
Successfully advocated for gender-neutral/trans-inclusive washrooms across York.
Worked to create additional residence support for students with diverse sexual and gender identities.
Hosted multiple events, conferences, and workshops, marking significant occasions such as Trans Day of Remembrance (Nov 20), International Day Against Homophobia (May 17), and Pride (June).
Supported Pride Flag ceremonies at Keele and Glendon campuses, and partnered on major Pride activities at York and downtown.
Responded to individual requests for support and advocacy by members of the York community.
In honour of Pride 2020, SexGen has created a page with historical highlights and other resources. Read more about SexGen's history here!
Annual Events
Each year SexGen York hosts events to mark Trans Day of Remembrance (Nov 20) and Pride (June)
Resources