June 21 is National Indigenous Peoples Day! Keep watching this space for updates on events and highlights of past/ongoing events.
Book Launch – Dadibaajim: History through Anishinaabemowin Place Names
June 20 at 1-3 (on zoom) A Talk by Namegosibii Anishinaabe Helen Olsen Agger, Ph.D., author of Dadibaajim: Returning Home Through Narrative, 2021, University of Manitoba Press, Winner of Canadian Historical Association's Clio Prize (Ontario). In this presentation, Dr. Agger will use Anishinaabe Language, Anishinaabe Place Names, and Historic Travel Routes to explain Anishinaabe Methodology and History.
Approaching Indigenous History/Studies
On June 14 1-3 PM, Indigenous scholars explore how to approach Indigenous History or Studies in academia: Who should be doing Indigenous history? Why? How should academics approach Indigenous History or studies? Why? What are Indigenous research methodologies? Why are they important?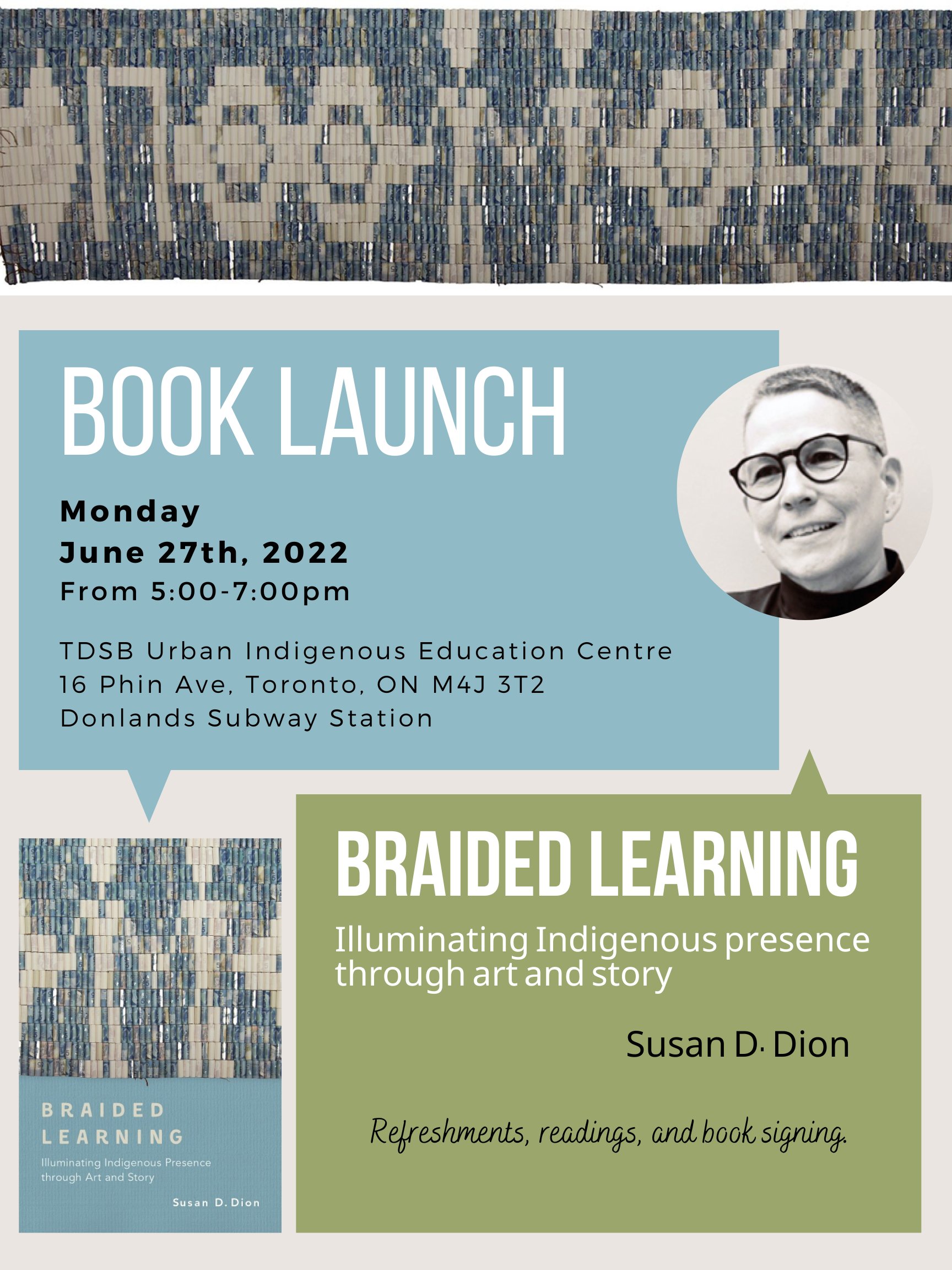 Centre for Indigenous Knowledges and Languages (CIKL) Associate Dr. Susan D. Dion will be launching the book "Braided Learning: Illuminating Indigenous Presence Through Art and Story", sharing her approach to learning and teaching about #Indigenous histories and perspectives | June 27 from 5:00-7:00PM (EST)
Venue:
TDSB Urban Indigenous Education Centre
15 Phin Avenue Toronto ON
M43 3T2 Donlands Subway Station
Virtual Guest Speaker: Amy Jackson from @NativeLoveNotes
In this virtual presentation on June 7th from 1-2PM, Amy Jackson shares how she created her small business NativeLoveNotes and the realities of being an Indigenous business owner.
Beyond Buzzwords, June 1, 2022, at 1-3 PM sponsored by the York History Department
Indigenous scholars address the misuse and misunderstanding of popular buzzwords such as decolonization, reconciliation, Indigenize etc. Check out other events by the York History Department on social media.
A Treaty Guide for Torontonians
A Treaty Guide for Torontonians is a monograph created by the Talking Treaties Collective: Ange Loft, Victoria Freeman, Martha Stiegman, and Jill Carter with Illustration by Kaia'tanó:ron Dumoulin Bush, Karis Jones-Pard and Alaska B. It was launched on June 5, 2022.
Copy editor: Lesley Erickson
Graphic design: Sébastien Aubin
Print Production: Type A Print Inc.
Talking Treaties project lead: Ange Loft, Associate Artistic Director, Jumblies Theatre + Arts
National Indigenous History Month at York on Y-File
Indigenous History Month at York