The Centre for Human Rights, Equity & Inclusion, in collaboration with partners across York University invites everyone to be a part of this year's Inclusion Week series.

This year's events are being led in partnership with Amnesty International YU, Athletics & Recreation, Schulich School of Business, Student Community and Leadership Development (SCLD), The Centre for Sexual Violence Response, Support & Education and Prof. Jessica Vostermans' Graduate Class.
This Inclusion week theme is:
Reclaiming Social Justice in EDI*
How might we reclaim the transformative roots of equity and inclusion projects?
Inclusion Week Events
Day 1 March 6

This interactive session is intended to be a contribution to our learning in addressing oppression, and to empower hard conversations about oppression and privilege with ourselves, and the people in our lives. It is also meant to help us challenge the assumptions we make about one another based on our privileges. This session will focus on creating an opportunity for contained, guided listening & dialogue in discovering our own internalized systems & privileges – gaining perspective on others through vulnerable, open-hearted conversation.
11AM to 12:30 PM Online

Have you been trying to promote DEDI at York in small or big or impossible or tangible ways? Have you had some successes and some dismal failures? Is it a struggle? What gives you hope in the work? A small group of folks trying to make DEDI change at the university are meeting the to talk about it. This will be an opportunity to build connection, work together and share ideas.
2-3PM Online
Day 2 March 7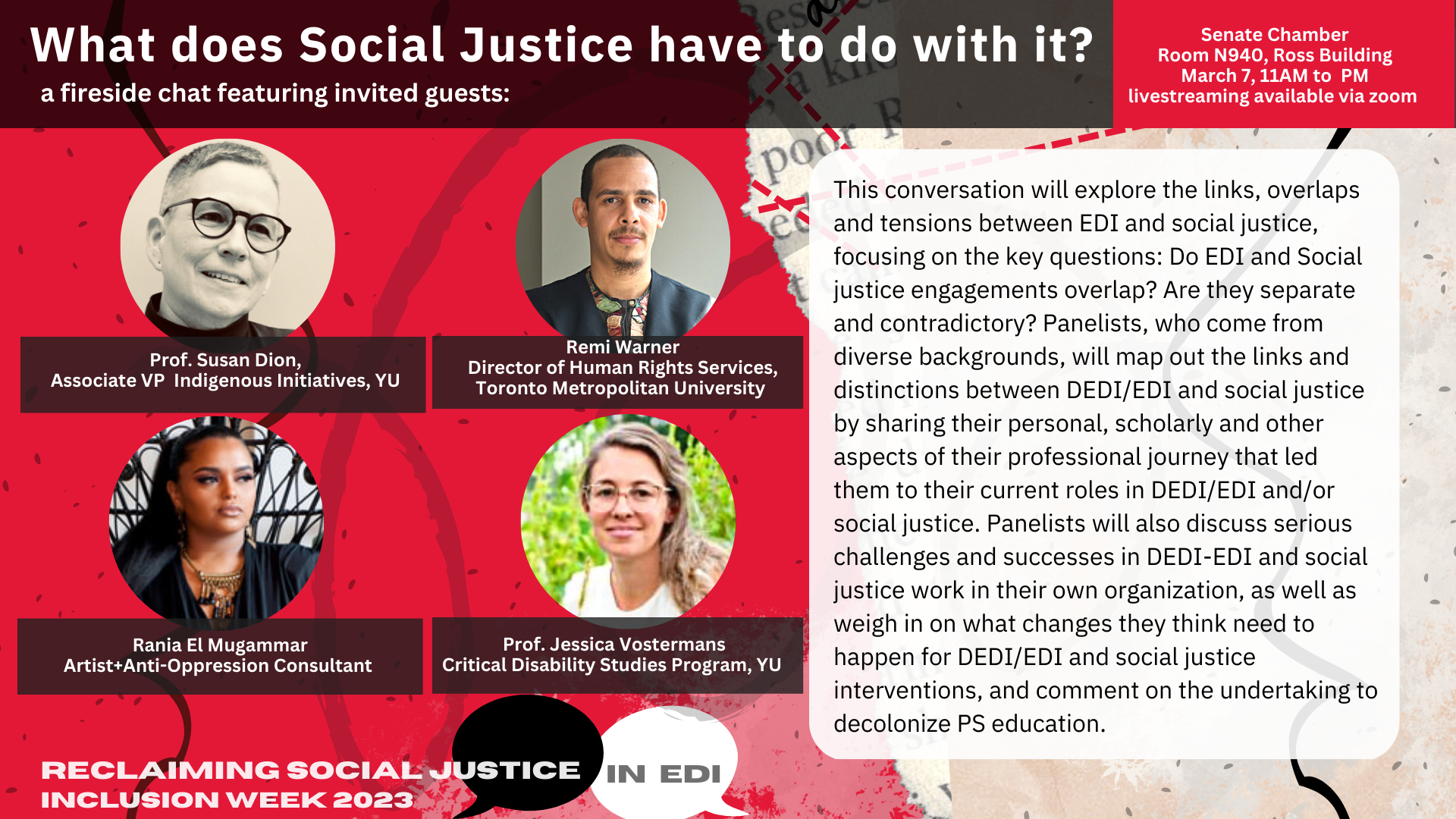 11AM to 1PM In person/Hybrid
Senate Chamber Room N940 Ross Building / Live streaming via ZOOM webinar
Our guest panelists:
Prof. Susan Dion, Associate Vice President - Indigenous Initiatives
Professor Dion is a Lenape and Potawatomi scholar with mixed Irish and French ancestry and was the first Indigenous tenure-track faculty member to be hired in the Faculty of Education at York. Professor Dion joined York in 2001 and was appointed to the rank of full professor in 2021. She holds a PhD, MEd and BEd from the University of Toronto, and a BA from the University of Waterloo. She is an internationally respected scholar and researcher in Indigenous relationships and education.
Rania El Mugammar, Artist + Anti-Oppression Consultant
Rania El Mugammar is a Sudanese Artist, Liberation Educator, Abolitionist, Anti-oppression Consultant , multidisciplinary performer, speaker and published writer. Her work explores reproductive justice, transformative justice & abolition, art as liberation and digital justice.
Remi Warner, Director, Human Rights Services, Toronto Metropolitan University
Remi Warner is the Director of TMU's Human Rights Services and has extensive experience in the fields of human rights, equity, anti-racism and inclusion especially in the public service sphere. Before taking up his current role in January 2021, Remi worked to advance human rights, equity and inclusion at the Ontario Human Rights Commission, the Ontario Public Service Cabinet Office and the Toronto District School Board.
Prof. Jessica Vostermans, Critical Disability Studies Program
Dr. Vorstermans (she/her) is an assistant professor in the Critical Disability Studies program in the School of Health Policy and Management, Faculty of Health, at York University. She is a settler scholar who is living, working and researching from Treaty 13 lands, and is committed to centring reciprocity in all of her engagements and relationships. Her research makes critical interventions into the field of international experiential and service learning and global citizenship, engaging plural ideas of human rights, disability and equity.
Free Event/Refreshments will be served
Directions to the Venue:
Enter through the Front of VARI. Ross Building is connected to VARI via walkway.
See directions /Follow signs on the day of Event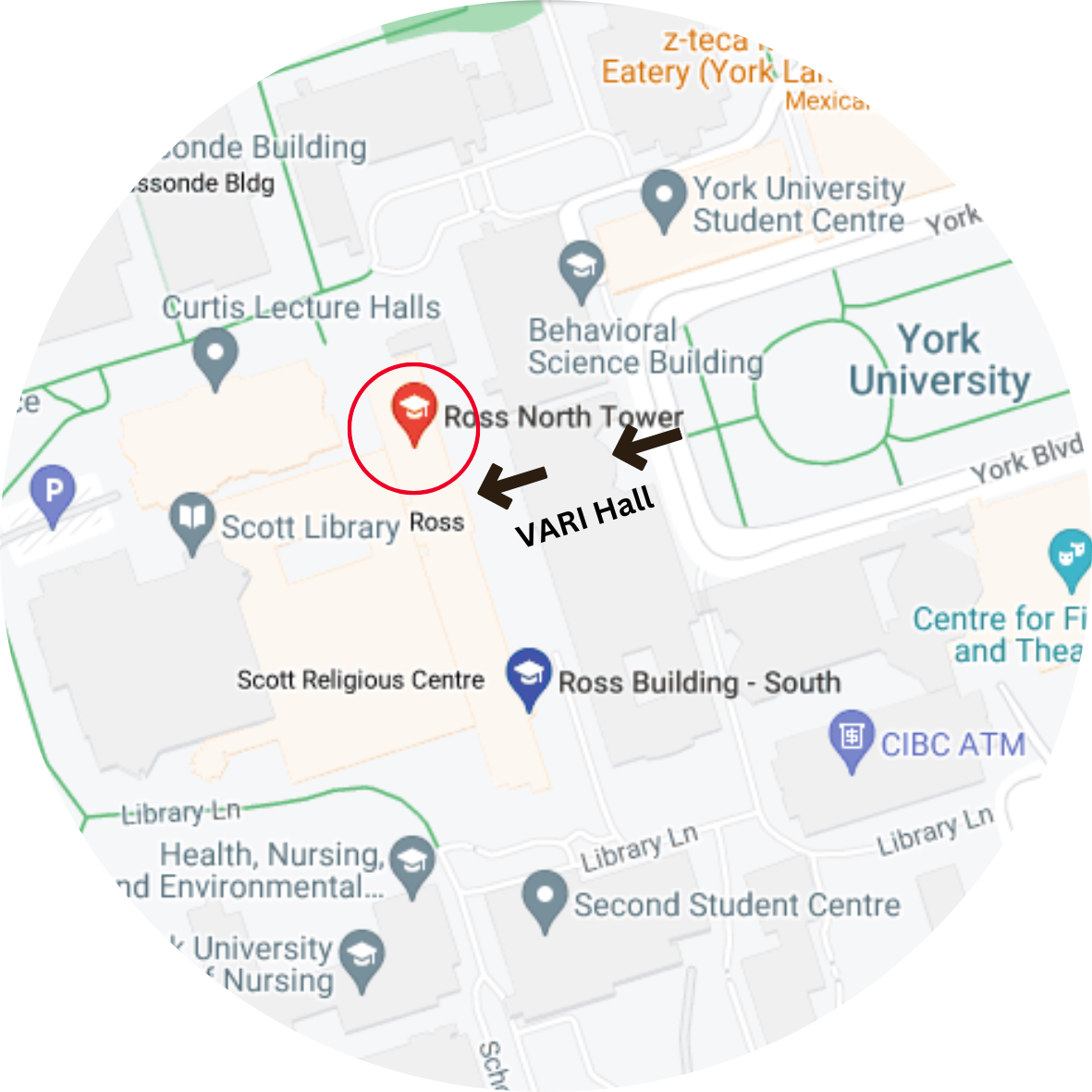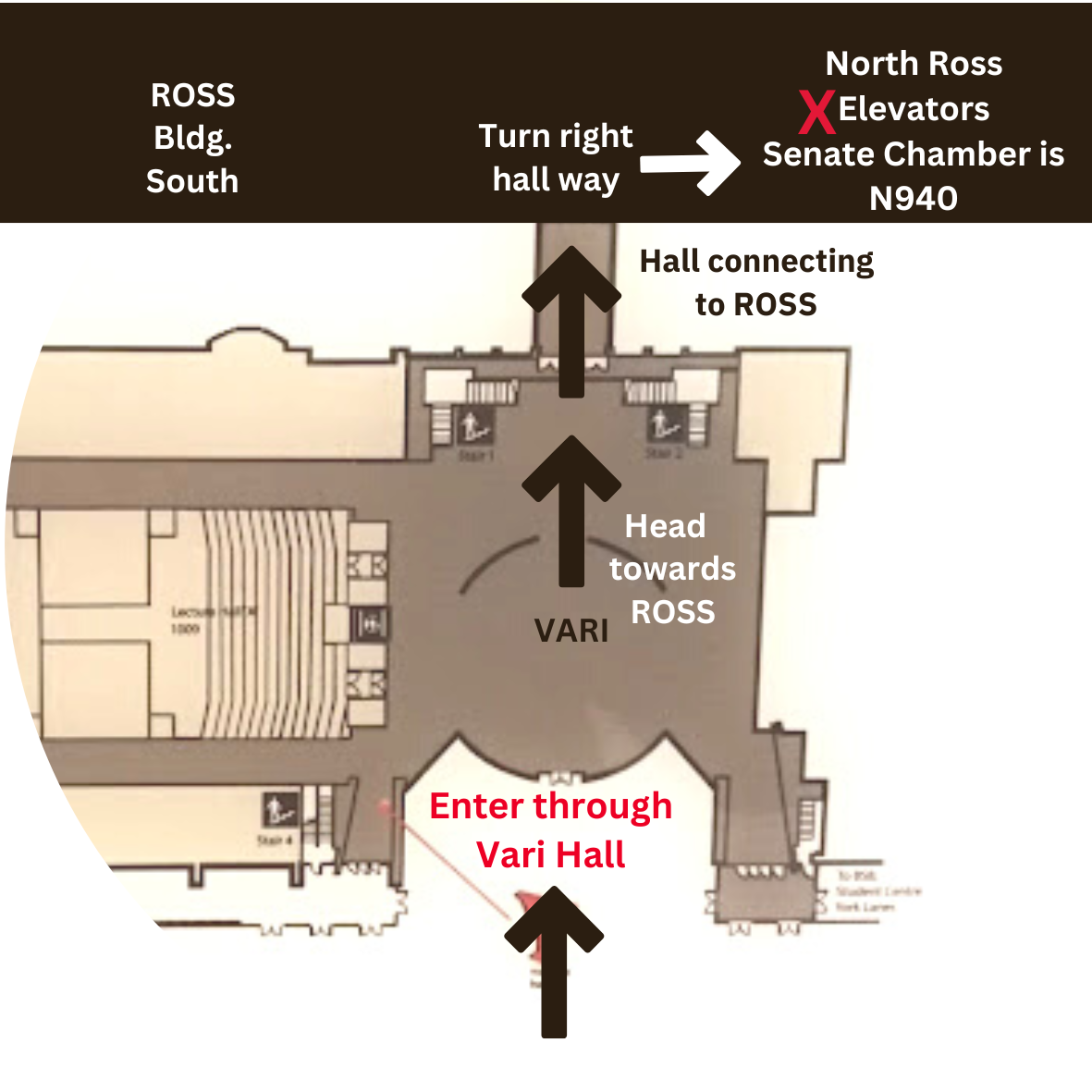 Athletics & Recreation is excited to be hosting Mark Tewksbury during this year's Inclusion Week activities and we would like to invite you to his Keynote on Tuesday, March 7 at 1:30pm in the Second Student Centre.
About A&R's Keynote Speaker
Mark Tewksbury was first known as a highly decorated Olympic and world-ranking swimmer. In 1998, Mark became one of the first openly gay Olympic champions in the world and has been a leader in the LGBTQ2S+ movement ever since.

Mark is vice president of the Canadian Olympic Committee, and co-founder of Great Traits, a leadership training company. Mark has played a strong role to shift and shape Canadian society through his story, work and legacy. As advocate, consultant, speaker and hero, Mark has spend his career impacting change in individuals and organizations.

Mark Tewksbury received a honorary doctor of laws from York University's Faculty of Health in 2022.
Day 3 March 8, International Women's Day
11AM to 1PM Live on ZOOM Webinar
About our Keynote Speaker
Kike Ojo-Thompson is an award-winning equity thought leader. She is renowned for her work and
expertise as an anti-racism and anti-Black racism educator, speaker, and organizational change
facilitator. For more than 20 years, Ojo-Thompson and her equity consultancy, KOJO Institute, have led
organizations in both the private and public sector towards more equitable outcomes. Prior to leading
KOJO Institute full time, Ojo-Thompson's notable roles included project lead of Canada's first-of-its-kind
initiative to address anti-Black racism in child welfare and senior facilitator for Ontario's carding review.
As a go-to voice in the conversation on equity and anti-Black racism, Ojo-Thompson has shared her
expertise with audiences of platforms and organizations like Forbes, Maclean's, The Globe & Mail,
Oxford University, and Giants of Africa. She has been recognized for her commitment to equity with
awards like the Women's Executive Network Inclusion Vanguard (2022), Robert Small's 25th Anniversary
Legacy Poster (2019); and 100 Accomplished Black Canadian Women (2018)
Read more about Kike and the KOJO Institute
Day 4 March 9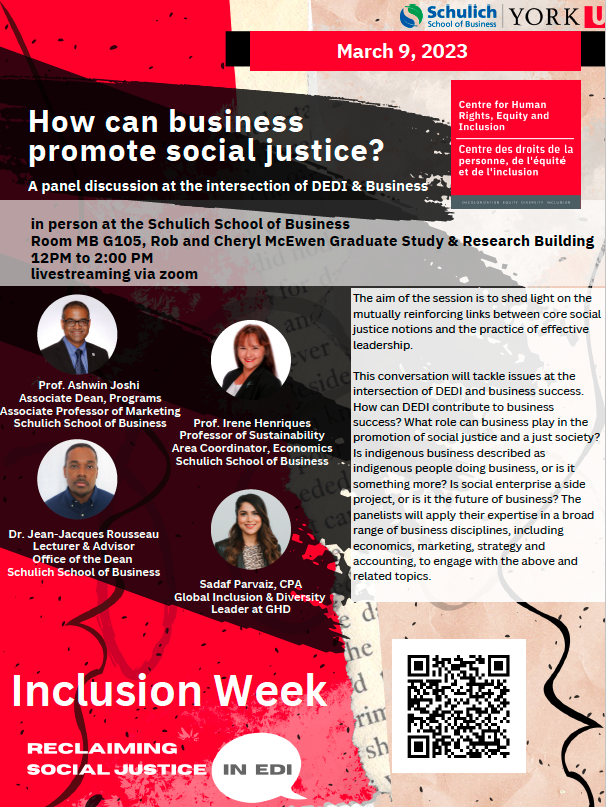 The Schulich School of Business (SSB) will host a discussion panel featuring the following speakers: Prof. Irene Henriques, Professor of Sustainability & Economics, Prof. Ashwin Joshi, Associate Dean Programs, Director of the MBA Program in India, Sadaf Parvaiz, CA, Inclusion & Diversity Leader at GHD with Dr. Jean-Jacques Rousseau (moderator), Advisor to the Office of the Dean, Managing Director at Rousseau .
12-2PM at SSB, Room MB G105
This event will be Hybrid and available live on ZOOM. Register here to access:

Join us for a walking tour of the York University Campus, featuring stops at discussion-provoking points of interest that highlight the challenges and contradictions of "inclusion" and "community" in the context of the ongoing housing and cost of living crisis. What are the challenges faced by domestic and international students moving to Toronto to study at York? How are people experiencing homelessness being treated by campus security? How does the university campus shape who is included and excluded in the York community? This walk will last approximately 45 minutes and will feature plenty of opportunities for discussion.

1PM in front of VARI Hall
Only a very few spots left
Day 5 March 10

10 AM to 12 PM
Join us to hear poems and stories of marginalized voices, including those of Indigenous people here in Canada and individuals from various areas in the Global South. We will be discussing these poems and stories in relation to decolonization, equity, inclusion, and transformative social justice and attendees will also have the opportunity to share their own stories in the form of writing.

Building on an understanding that organizations and institutions continue to embody many of the ways in which our society has created barriers to equity and inhibited inclusion, this session will consider discrimination from a systemic lens, and ask participants to engage in meaningful discussions on systems change. Participants will be invited to reflect on their own roles and positionalities within York and other organizations and communities and consider how to build collaborative responses to systemic inequities.
1-2:30 PM Online